Family
Your Blanket of Love
Recently I broke through a long term thing I had about not wanting to paint the same thing twice. I kept reading and hearing about artists that worked within themes for their whole life and I realized I had been doing that since I was a young boy. Certain ideas grabbed my heart long ago and it will take me many years of exploring them in paintings and writing before I want to move on. So I currently have my third "Blanket of Love" on my easel and it's coming to life in a very different way. This one sold years ago.
The Two Become One - 5
This is one of my early paintings in this series exploring the great mystery of a man and woman slowly blending together over time. Not really knowing where the other leaves off and you begin.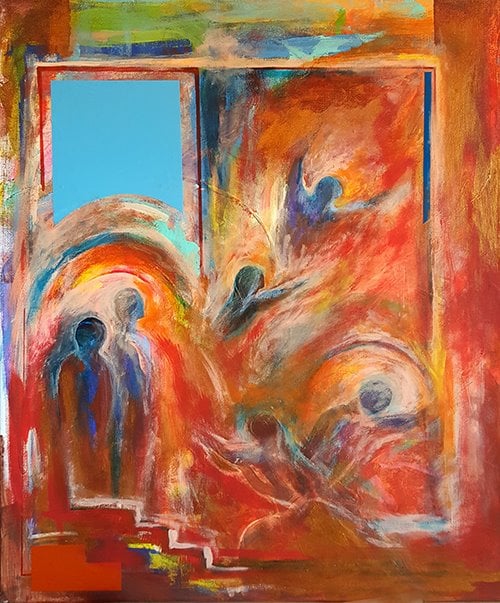 The Circle of Love
Love moves in a full circle. Start, move, arrive...go again.
Don't stop. Keep going. Pain, confusion, disillusionment, fear of NEVER arriving…keep going.
Joy, feeling like you've arrived, reaching the mountaintop…go again.
This painting starts in the lower right corner with a couple each going different ways but holding together -connected. The woman is leading and the man wants to go the other way. They figure out their differences and move up the stairs - they live some days and months and years of life and they stand together, no longer in strife but united, looking up and toward the future. Then the top right area comes into view. This time the man is moving forward and the woman is being pulled along in the wake of their love.
The circle repeats itself over the years. The issues change, one leads, the other follows, and they change again.
The circle of love moves, it changes, it grows and we're swept along in its power.
Like Love Shining From Above...
Wrapping Covers Gently Around My Life
Two
Mother And Child
At Last
Early
Find Fall Fault Fly
This series now lives with a family in Las Vegas and are works on paper each is 24" x 36."
Five